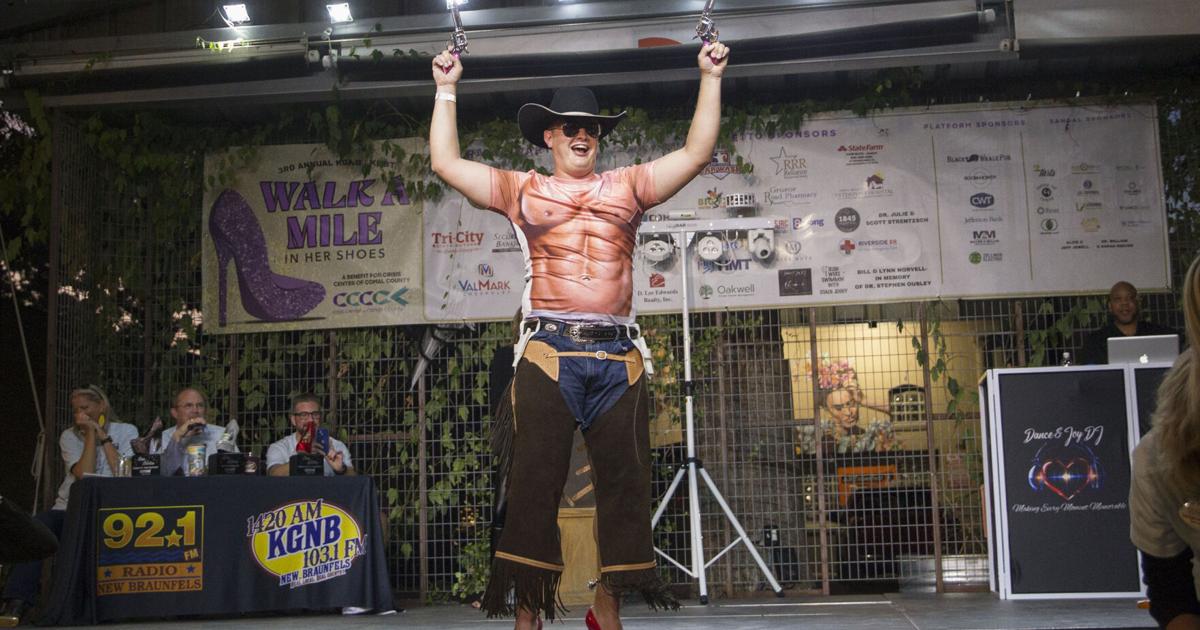 Walk a Mile in Her Shoes Raises Over $200,000 for Comal County Crisis Center | Community Alert
The techno beat of '80s classic "Maniac" set the mood as Clifton Wilson took the stage in a dirndl and a pair of shiny red pumps and mimicked the infamous "Flashdance" dance.
The crowd went wild as he tiptoed down the track, surrounded by people raining cash on the amateur performer, who finished his routine by paying tribute to the water-doused character.
Wilson was one of 19 candidates who bravely put on their heels to raise money for the Comal County Crisis Center (CCCC) as part of the annual Walk a Mile in Her Shoes fundraiser.
"They've put themselves out there to make it known publicly that they support the Comal County Crisis Center and their willingness to step into another's shoes, taking stock of how uncomfortable life can be. for someone else," Tiffany Mayne said. with KGNB Radio.
After rescheduling the event, which was canceled due to inclement weather, the fundraiser at Krause's Cafe on Tuesday night raised more than $200,000 from donations, auctions and contestants who raised funds so far. the end of the parade.
One of CCCC's largest contributions was made by auctioning off a private Randy Rogers Band concert that fetched $19,000, and that amount was matched by the Randy Rogers Family Foundation.
Money raised from the event will be used to help the non-profit organization, which works with victims and families of domestic violence and sexual assault, furnishing its new facility after losing its shelter in a fire over early this year.
Walk a Mile in Her Shoes is CCCC's biggest fundraiser of the year and was created by Mayne and the radio station five years ago.
The idea was to have an event where competitors would put on a pair of heels and a t-shirt to walk for a charity cause, and to add the track component to showcase the competitors.
Mayne never expected contestants to go the extra mile by competing in extravagant costumes — they did it on their own.
"The first year when a few people showed up in costume, I was shocked and pleasantly surprised," Mayne said. "I thought, 'Wow, you really take this seriously.' Then it spreads and so on the next year and the next year people want to outdo themselves and outdo them.
This year's fundraiser brought out an array of creative characters, who strutted down the runway to a song of their choice, energizing the crowd to win those final donations.
Characters ranged from Tarzan, who wore an animal print dress, and a Shiner Beer lover with matching gear and a rubber duck around his waist, to Rosie the Riveter swinging a wrench and 80s glam rocker sporting makeup and shoulder pads.
The heel wearers wore an assortment of props that added to their performances, such as Patrick Carreon, who used a walker to take on his elderly persona.
Dressed in a pale blue nightgown, curly gray wig and glasses, Carreon exaggerated the difficulty of descending the track, taking a few breaths along the way as Miley Cyrus' "Party in the USA" played before to throw down his walker and jump around the stage.
"It was an awesome event and definitely the most fun I've had all year," Carreon said. "It was so much fun (the fundraiser), and you know, I (sometimes) forget how generous our community is and it was so cool (to reach out to businesses)."
Drawing from his Texas roots — albeit in heels — New Braunfels Jaycees vice president Cordell Bunch has gone full cowboy in shorts, fringed chaps and a western shirt — with an unexpected surprise underneath.
As Bunch walked down the track with spurs around his bare ankles on "Man!" I feel like a woman!" he ripped off his shirt revealing a T-shirt resembling a bare human chest and threw plastic guns into the air.
"I figured if we were going to do this, might as well go all out, and the further you can go, I think the more money you end up raising," Bunch said.
As someone who does a lot for the community, Bunch really wanted to give back to an organization that does a lot for those in need.
"I decided to do this…just to help them complete their mission," Bunch said. "It's a wonderful organization that does so much for so many people, and literally, at the worst time in their lives."
As they took up position on the start line, the competitors showed signs of heel fatigue but were in good spirits as they raced past an enthusiastic crowd.
This year's event was the most successful Walk a Mile in Her Shoes to date and raised nearly $100,000 more than previous years combined, according to Mayne.
CCCC and the radio station look forward to raising even more next year as the event continues to grow.