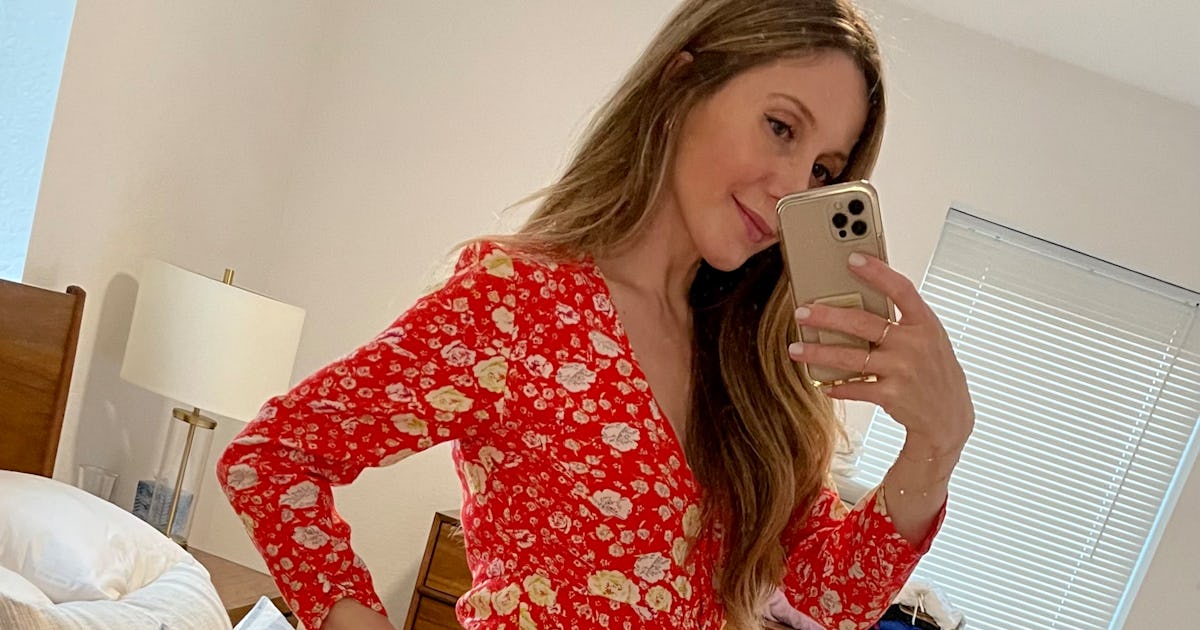 The maternity clothes I live in at 7 months pregnant
I had always imagined my maternity wardrobe to focus on bump-flattering dresses, flowy tops and, of course, leggings outfits with a mix of knits, sweatshirts and tees. oversized. It is true to some extent. However, most of the time my outfits have been less than photogenic, with sweatpants and comfy long sleeves that wear out a lot more than cute maternity outfits.
Surprisingly, other pregnancy staples became essential earlier in my first and second trimesters before my bump grew significantly larger. My soft underwear was already starting to dig in; I filled my bras much more than usual; and the stretchy gym clothes I wore daily quickly became itchy or uncomfortably tight. Pajamas were another unexpected category I had to tackle – what I thought were roomy tops and bottoms felt restrictive as I tossed and turned more and more. Discover maternity underwear and basic products for sleep and leisure. Oh, and the jeans? It has become a difficult pass quickly. That's until I gave in to maternity jeans and quickly devised a hack to make them as comfortable as possible.
It would be an understatement to say that I was surprised at feel so many changes rather than physically seeing it all. But, as many have told me, pregnancy is a journey, and sometimes a turbulent one. Styling changes are simply part of the ride. So while, more days than not, I prioritize comfort over aesthetics — especially now that I'm seven months old — I remain dedicated to cute maternity clothes as often as possible. Here are some of the pieces that I consider essential.
We only include products that have been independently selected by TZR's editorial team. However, we may receive a portion of sales if you purchase a product through a link in this article.
Bump-friendly dresses
I am a dress lover, through and through, almost always opting for midi lengths ranging from minimal to bohemian. I've never been one for too tight silhouettes. However, my growing enthusiasm for showing off a bump changed my tune in favor of figure-hugging knit and jersey dresses several days into putting on. Of course, my penchant for romance almost faded, and I also often relied on smocked styles and tiered shapes.
maternity leggings
Since the leggings are so stretchy, I figured many would easily reach my growing bump. At first it was. But even in my first trimester, the waistbands started dropping to an uncomfortable midpoint, including the highest-waisted styles in my range. So over-the-bump leggings have become essential, from the kinds made to sweat to the soft and comfy versions I spin around at home.
Bigger sports bras
Even though I have a small chest and am not that tall than my usual size, this is one area that started to change immediately and continues to do so. Like my leggings, I thought most of my stretchy sports bras would get me through the first few months. But after only two or three, it was time to go up in size. Of course, I can sneak in some tried-and-true favorites, but it's usually not worth it. The best investment so far has been nursing styles that I can continue to use post-pregnancy, but I also love a lot of my regular labels in plus sizes.
Longer tops
My usual assortment of tops ranges from flowy styles with puff sleeves, crisp shirts, and sweaters of all kinds, from fitted to oversized. But similar to my clothing preference, I mostly preferred sweaters that were fitted but not tight to flaunt my bump rather than looking awkwardly lumpy under a baggy or boxy style. The length, however, became an issue with my used assortment around the six month mark. So I've added a few less impactful styles to my maternity wardrobe – including tees, knit tops, shirts and sweatshirts – although I find most are best layered over dresses or with leggings rather than maternity jeans that sit under the bump.
maternity jeans
I have witnessed a phenomenon in pregnant women who seek to avoid maternity clothes for as long as possible. I fell into this camp and I understand why. First, the cost – who wants to shell out money for a temporary outfit? Second, maternity clothes get a bad rap for not being stylish, and jeans, well, they can seem like unnecessary torture devices for an ever-changing body. At least for girls dressed like me.
At some point, I gave in and was pleasantly surprised to find the pair I selected at DL1961 comfortable while still maintaining the vintage-inspired straight-cut look I love. However, there was one problem: the stretch panels made my skin very itchy. But I quickly found a trick: maternity underwear on the stomach as a base layer.
It's a much softer solution than awkwardly wearing another thin top under specially fitted tops and sweaters. Also, the length issues I mentioned earlier meant that most tank tops and layered tees don't fit completely anyway. The style I chose of Bumpsuit is super stretchy and will last me through my pregnancy – I just stocked up on a few more pairs.
Loose sweatshirts
Oversized tracksuits have been my go-to between winter temperatures and super puffy days where I can't tolerate anything form-fitting. Luckily, stylish sweatpant outfits are always in style, and I've added a few new pairs from my regular brands to my arsenal, all in larger sizes for plenty of room.
Maternity Pajamas
Most of my pajamas are loose before pregnancy, but nothing like a growing bump to make you realize how much more space you can use, especially when a sore body and baby kicks start. to interrupt your sleep. I'm incredibly picky about sleepwear fabrics, so I've ordered my favorite styles in plus sizes to make sleeping as comfortable as possible.
Maternity underwear
I knew bigger bras would be essential during pregnancy, but I hadn't thought about how extremely larger important underwear would be. Even my silkiest, seamless styles started to dig in during my first trimester. So I upgraded my assortment with larger sizes, ranging from breathable cotton underwear to over-the-bump styles and seamless thongs for workouts. Plus, I stocked up on soft bras with lots of non-wired stretch.