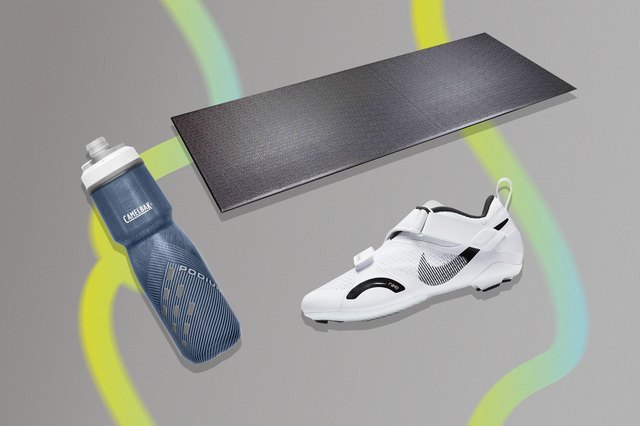 The 6 Best Exercise Bike Accessories, According to a Cycling Instructor
An indoor cycle is a great investment. Cycling indoors lets you achieve a low-impact cardio workout that strengthens lower body muscles and burns calories, without ever leaving the house.
If you're serious about your indoor rides or outfitting your brand new stationary bike, consider upgrading your home setup with a few exercise bike accessories.
Small additions like a mat or phone holder can make your indoor cycling workouts more enjoyable, while larger investments like bike seats and bike shoes can improve your comfort and performance.
Check out our recommendations for the best exercise bike accessories to add to your home setup.
We turned to Jennifer Jacobs, CPT, certified indoor cycling instructor and Beachbody Super Trainer, for her top tips for finding the best exercise bike accessories. Next, we rounded up several options by category, using the following criteria:
Price
Materials
User ratings
Sustainability
Features
Indoor bike seats are notoriously uncomfortable. But luckily, you're not doomed to finish every ride with a numb rear end.
Bicycle saddles come in many shapes, widths and styles. So if your bike's built-in saddle hurts, replace it with a saddle that better suits your body type and personal preference. You might also want to keep an eye out for useful features like ventilation, padding, and an ergonomic design that ensures optimal blood flow to sensitive areas.
Cyclists with prostate problems, for example, can benefit from a prostate-friendly bike seat designed to reduce pressure on soft tissues.
However, don't immediately buy the highest rated saddle you find. Likewise, don't opt ​​for a bike saddle just because your cycling friends swear by it. "The perfect saddle doesn't exist," says Jacobs. "What is ideal for one person may not be ideal for the next."
In fact, you may need to experiment with different options before landing on the best bike saddle for you.
Check the brand's return policy before buying to make sure you're not wasting money on saddles you find uncomfortable. Stick with brands that offer 30-day unconditional guarantees.
Prefer not to remove your seat? Try a stationary bike seat cover. These fit over most existing bicycle seats to provide additional cushioning.
Shop these bike saddles and covers
The right shoes can make or break your workout, and cycling is no exception.
The main benefit of indoor cycling shoes is that they connect your feet to the pedals, helping you transfer more power to the bike throughout the ride. Your hamstrings are free to push and your hip flexors (a group of muscles in front of your pelvis) are able to pull. Without that connection, you'll lose power with every hit, diminishing the benefits of your hard work, says Jacobs.
Before buying a pair of indoor cycling shoes, check the shoe's cleat type to make sure it will work with your stationary bike. To secure your cycling shoes to your bike, you need to "clip" your shoes into your pedals with metal shims.
These cleats come in two main types: SPD and Delta. Most home stationary bikes are compatible with either type of cleat, so you'll want to familiarize yourself with the type your bike uses before spending your hard-earned cash.
Why are cycling shoes marketed to men and women?
Some manufacturers market cycling shoes based on gender, while other shoes are designed to be gender neutral. The main difference between most men's and women's shoes is the width and size of the shoe: many men's shoes are designed to support heavier weights. People with larger bodies may feel more comfortable in the men's versions, while people with smaller bodies may want to opt for the women's versions.
Intense indoor cycling workouts can really do a lot to your floors. Create a protective barrier with a bike mat.
An exercise mat is not only easier to clean, but it can also prevent your stationary bike's metal feet from scratching or tearing your floors. "If you don't want the sweat from all your hard work eating away at your floors, then putting a mat under your bike just makes sense," says Jacobs.
Check that the mat is large enough to fit under your indoor cycle and provides enough coverage to catch sweat when it flies. You may also want a dense mat to dampen any noise or vibration from your bike.
A phone or tablet bike mount will come in handy if your indoor cycle doesn't have a built-in display to stream workouts. It's also a great option if you like to watch shows while pedaling.
Try to set up your phone or tablet in a position that doesn't mess with your cycling form. "A great alternative is to broadcast your cycling workout on a TV or tablet in front of your bike to ensure good cycling form," says Jacobs.
Shop these phone or tablet stands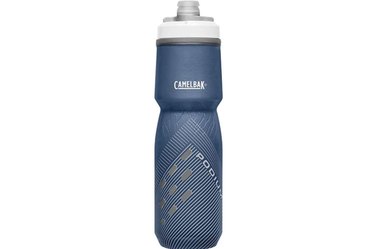 Sure, you can still hydrate with your existing water bottle, but bike water bottles offer rider-friendly features, including self-sealing nozzles to prevent leaks, a squeezable design for easy sips fast and slim profiles that are easier to grip while pedaling.
Also, your everyday water bottle may not fit in a standard bike bottle cage.
The best bike water bottle for you depends on your personal preference. Consider the material (plastic and stainless steel are most common), nozzle type, bottle size and weight, and whether you need insulation or easy-grip features.
Buy these bike water bottles
6. Bike bottle holder
Even if you don't plan on getting into a bike-specific water bottle, chances are you'll still need a bike water bottle holder to keep liquids close at hand during your journey.
When shopping, look for a bike bottle cage that will fit both your bottle and your bike. While some bottle cages can be adjusted to fit your bike frame or bottle, others come as is.
Also consider where to mount the rack on your bike. Most bottle cages mount to the downtube of your bike frame (the long diagonal bar that runs from the handlebars to the pedals), but others can be mounted to the seat post at the rear of your bike.
You'll probably do just fine with the frame support. However, some people may prefer to retrieve their bottle behind their seat.
Buy these bike bottle holders