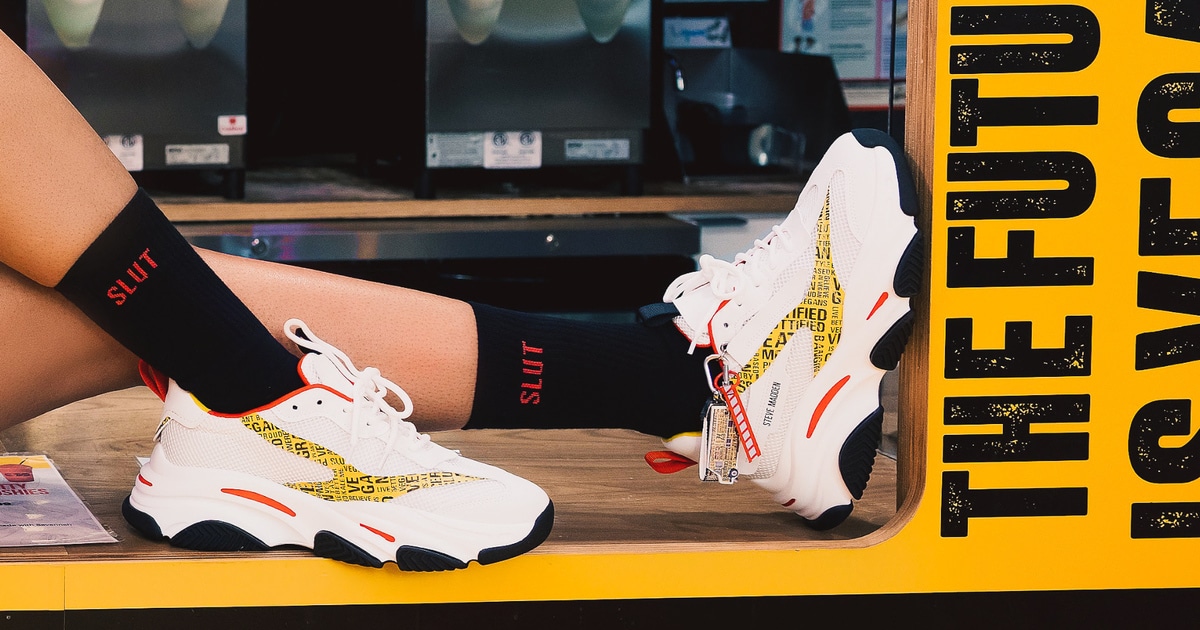 Slutty vegan shoes? What we know about the partnership with Steve Madden
Slutty Vegan and iconic fashion brand Steve Madden have teamed up to create new sneakers and handbags inspired by the famous vegan fast food chain. The new items are reimagined versions of Steve MAdden's classic POSSESSION sneakers and BSETTITUP bag styles and are made with all-vegan materials approved by animal rights group People for the Ethical Treatment of Animals (PETA). The bag and trainers have been given a Slutty Vegan makeover and feature the chain's white, yellow and red colors, along with its recognizable logos and slogans.
"I'm thrilled that Slutty Vegan can partner with such an incredible company like Steve Madden," Slutty Vegan founder and owner Pinky Cole said in a statement. "When the opportunity presented itself, it was a no-brainer. This collaboration goes beyond just a shoe: it's about showing people that there is no need to live in a box. You can be disruptive and break all glass ceilings, even if it means being a burger restaurant that has a vegan shoe.
The Slutty Vegan x Steve Madden collection launched on both companies' websites and quickly sold out online at Steve Madden. The BSETTITUP Bag ($89.99) and POSSESSION Shoes ($99.99) are available in-store in Slutty Vegan's hometown of Atlanta at Lenox Mall's Steve Madden location in Buckhead.
The explosive growth of Slutty Vegan
Cole founded Slutty Vegan as a food truck in 2018 and after quickly attracting mile-long lines, the social justice advocate expanded the concept to his first brick-and-mortar in January 2019. The concept is built around provocatively named vegan burgers served with a variety of toppings and slathered in the chain's famous "Slut Sauce." The burgers, which can now be made with an Impossible Burger or Beyond Burger patty, have attracted many celebrity customers to Slutty Vegan, including Tyler Perry, Snoop Dogg, Usher and more. NBA legend Shaquille O'Neal even credits Slutty Vegan for helping him cut down on his meat intake.
From his first outpost, Cole has expanded the chain to five physical locations and a concept bar at Atlanta's Ponce Market. The chain also has multiple locations in the works outside of Georgia, including Birmingham, AL; Brooklyn, New York; Charlotte, North Carolina; and more. To fund its massive expansion, Cole recently secured a $25 million Series A investment led by New Voices Fund (owned by social commerce innovator Richelieu Dennis) and Enlightened Hospitality Investments (owned by restaurateur Danny Meyer, known for his fast food chain Shake Shack).
Meyer was captivated by Cole when he met her during a Shake Shack collaboration with Slutty Vegan last year which saw the production of the SluttyShack, a limited time offering served at the Shake Shack in Atlanta and New York. during a day.
The new partnership with Steven Madden brings Slutty Vegan's captivating approach to vegan fast food into the realm of stylish fashion. Madden was also impressed with Cole when he met her through the Fearless Fund – a grant program that invests in women of color – in February 2021 and their collaboration represents the first time that a shoe brand and a restaurant vegan associate in this way.
"When you encounter Slutty Vegan's kind of daring sensibility and explosive popularity, collaborating with them was a no-brainer," Steven Madden Brand Owner Steve Madden said in a statement. "Pinky and I share this spirit of daring to disrupt."
Pinky Cole gives back
As Cole continues to grow her influence in the world of vegan food, the social justice advocate is dedicated to helping others rise alongside her. To that end, its eponymous The Pinky Cole Foundation has supported a variety of social justice initiatives over the years to help communities of color build generational wealth.
Most recently, Cole partnered with Varo Bank to give 800 graduates of his alma mater, Clark Atlanta University, the opportunity to register the LLC of their choice to encourage them to start their own businesses. Cole revealed her entrepreneurial gift to the promotion during a historic commencement speech at HBCU – where, at 34, she became the youngest person to give the speech.
For the collaboration with Steve Madden, Slutty Vegan and Steve Madden will continue to give back by donating $1 from sales of the sneakers and bags to support PETA's work in animal rights advocacy.
For more on Slutty Vegan, read:
How Shaquille O'Neal Gives Up Beef With Help From Slutty Vegan
Slutty Vegan now has $25 million to expand the vegan empire
10 Black Vegan Chefs Redefining Plant-Based Food and Community
JUST LAUNCHED! Get our 10 Easy Vegan Summer Meals recipe book as a FREE instant download.
Get the guide
JUST LAUNCHED! Get our 10 Easy Vegan Summer Meals recipe book as a FREE instant download.
Get the guide