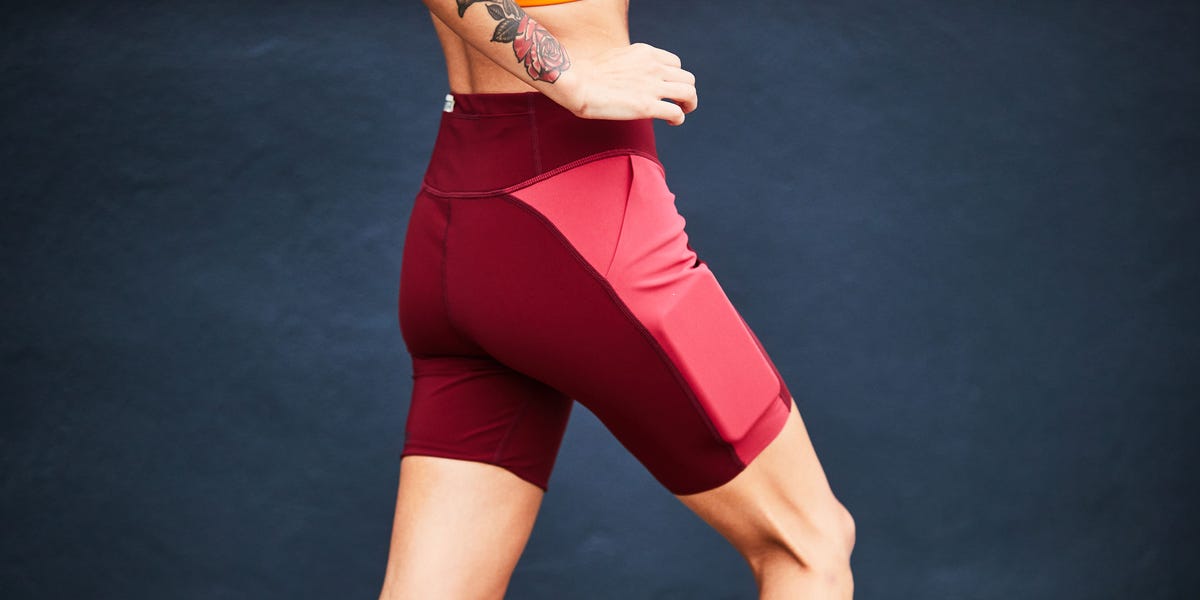 Runners need pockets | Best running clothes
During a series of tights tests, one of our testers was completely won over by a pair, with the exception of one glaring flaw: "LACK OF POCKETS! These leggings would be PERFECT if they had side pockets. Pockets can make or break a race. We hear it all the time from our wear testers; funds with good pockets always get more positive responses.
The same goes for almost any other running gear – shorts, bras, sweatpants, rain jacket – and I totally agree: give us pockets. Good news: there are a variety of options for storing everything your little racing heart can't live without – smartphone, ID or mid-run snack – if you know where to look.
More pockets, please.
The pocket seems to be a relatively new concept in sportswear. I still remember the pocketless sweat shorts that were the norm less than 20 years ago. Running clothing brands are now adding this essential feature, but there are still instances where pockets are missing, especially when it comes to women's clothing.
Some brands, like Janji and Fourlaps, which recently launched a women's line, try to cater to both men and women when it comes to storage.
"We try to be as gender-equitable as possible when it comes to pockets, because the reality is that they both want a ton of pockets now," Janji co-founder and CEO Dave Spandordorfer said. . "To be honest, we still get more requests from women for more items, more pockets."
In a video call with Sally Bergesen, founder and CEO of women's running apparel company Oiselle, I lamented that the biggest affront to women's apparel is the side "pocket" that's sewn in. Bergesen agreed.
"Fake pockets are the worst," she said. "If you go way back, pockets weren't in women's clothing at all. I remember reading that there was this idea that women were going to carry seditious documents about a revolution, as if you were hiding something dangerous in your pocket.
Runners know that the only things we carry are gels, money or tampons to stay out of the literal red zone during long runs. Oiselle has a webpage dedicated to its collection of products with pockets (you'll see models storing Picky Bars, lip balm, and even toaster pastries). Among the brand's offerings are the Toolbelt Roga Shorts ($62).
I tested the Toolbelt in 2019, and they changed my life. The running belts were too big to fit my waist, causing them to hang loosely against my hips as I ran. The tool belt's 360 mesh pocket allowed me to carry multiple items on my daily errands, while the belt's internal infinity drawcord limited bouncing. I wear Oiselle's O-Mazing Mini Power Compression Shorts ($58), which also have a 360 pocket, when I'm on vacation and need to grab my smartphone in case I get lost. The run in Oiselle's Pockito Bra ($58), which has a pocket in the middle of the chest, makes it easy to reach gels. Carry the O-Mazing and the Pockito together: maximum loading capacity.
---
What makes a good pocket?
These are the three factors needed for a pocketed running garment, according to Oiselle founder and CEO Sally Bergesen.
Accessibility: "One thing you want is ease of access, just to be able to really put your hands or fingers there to get what you need."
Placement: "The key location of the pockets when running is your center of gravity, your core: your hips, your butt, your upper thighs. If everything you are carrying is properly secured to this area, it will provide the least amount of bounce. We like to add pockets to as many things as possible, but we also like to design them so that they're minimal or hidden, or that they fit really well and don't make the garment feel awkward on the body."
Support: "If you have the right compression fabric and the right pocket position, you don't actually need a zipper. You run, you stand, you don't do handstands. The compression fabric will keep what you have in its place.
---
The price on the pockets
Some brands still skimp on storage space because it drives up costs.
"Pockets don't come cheap," Spandorfer said. "Big companies need to have a high margin and sell to more traditional wholesalers. They don't want to add those pockets because they're worried about the cost. But I think a lot of smaller brands like to add pockets because they know how important it is to customers, even if the product is more expensive.
Janji tries to fit as many pockets into his pieces as reasonably possible. The brand's Groundwork stockings come in various lengths and styles with four to six pockets. Janji also offers its back-pocketed Groundwork Long Bra 2.0 ($66) and Transit Tech Cap ($38), which has a zippered pocket on one side.
"Having more pockets allows runners to not only run fast or run hundreds of miles at a time, but to truly explore the world around them, whether it's running to the grocery store, running home, keep chasing after it," Spanddorfer said. "It's about creating more options, more space and more storage so you can go where you want."
Where are my pockets?
Running socks with pockets galore for everything you need on your next long run
The best place to store your phone
I asked the RW staff, "When it comes to a phone pocket, do you prefer wearing it on your thigh or lower back?" Our house is divided.
thigh crew
→ Jeff Dengate, Associate Editor / "I have a pair of New Balance Impact tights that I live in during the winter. They have thigh pockets and there is literally no movement from my iPhone 13 Pro. I don't feel it at all.
→ Sarah Hemstock, Marketing Director / "I found my phone fit better in most thigh pockets than the back. Also, I have short arms, so it's easier for me to grab my phone from the side if I need it instead of reaching around my back halfway!
→ Hunter Young, digital designer / "I love the thigh pockets! Less sweat, easier access, I don't feel like they are pulling my pants down. If I run a longer distance, I make sure I have shorts with thigh pockets ready for that.
Lower back camp
→ Mallory Creveling, Associate Editor, Health and Fitness / "I'll look for the back pocket if I'm not going to pull out my phone to change a song. If I don't have a playlist ready, I'll opt for the side. Some thigh pockets are too low so I usually prefer the back.
→ Gabrielle Hondorp, commercial writer / "Back pocket. I feel unbalanced when my phone is on one leg, and I swear I lean in that direction. I feel like I always readjust my pants.
→ Jess Movold, AD+ running coach / "I found a pair of New Balance that has a back pocket large enough for a phone – zero bouncing! My favorite, though: runs without a phone!
Amanda is Tests Editor at Runner's World and has run the Boston Marathon every year since 2013; she's a former professional baker with a master's degree in food and she's stocking up on carbs on snickerdoodles.
This content is imported from OpenWeb. You may be able to find the same content in another format, or you may be able to find more information, on their website.