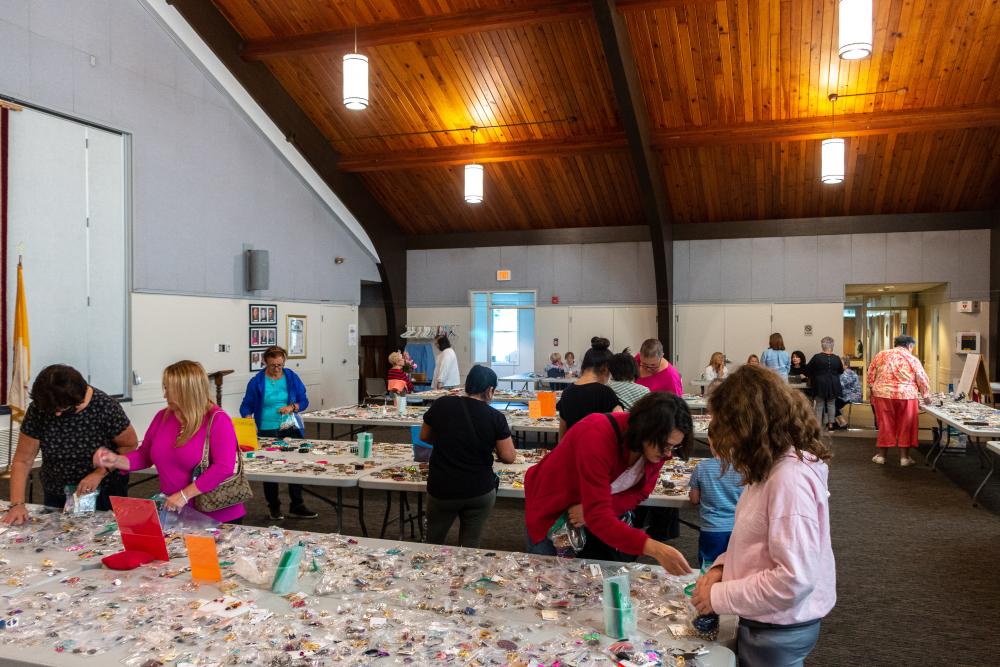 Ladies Guild sells jewelry by the bag full at a fundraising sale
All that glittered was not gold in the hall of the Sainte-Julie Billiart Church on Saturday September 17 as the Parish Ladies' Guild held a jewelry sale to raise funds for the scholarship program of church studies.
For the past 13 years, sales have generally taken place every year, but Saturday's fundraiser was the second of 2022 – a bonus clearance sale to sell some leftover inventory from past sales.
And the clearance sale came with great prices. Shoppers could fill a sandwich bag with jewelry from all categories for just $5.
All of the jewelry on offer was donated for sale by members of the parish, so despite the low prices, the Ladies' Guild was able to raise a considerable amount of money to send young members of the church to college.
Isabel Medeiros, a member of the Ladies Guild, said that since the start, the jewelry sales have raised around $70,000.
"It's a lot when you think about it," she says modestly.
She added that selling jewelry helps recycle used jewelry that still has value but might otherwise have become trash.
"It's a disposable society, but what someone doesn't want, others are happy to get – and at a good price," she said.
Among the sea of ​​bracelets, rings and necklaces, the only thing that could not be found was gold or silver jewelry.
Medeiros said this is because these pieces are sold separately to a local jeweler, along with broken items, at a good price.
She explained that by removing precious metals from the equation, sales become less intense and the ladies' guild is able to decrease the risk of theft.
Medeiros said the sale is only possible thanks to the generosity of parishioners and the hard work of the Ladies Guild – which includes almost 100 women.
"Which is really unusual – guilds are kind of a thing of the past," she said. "So we have a lot of good help."