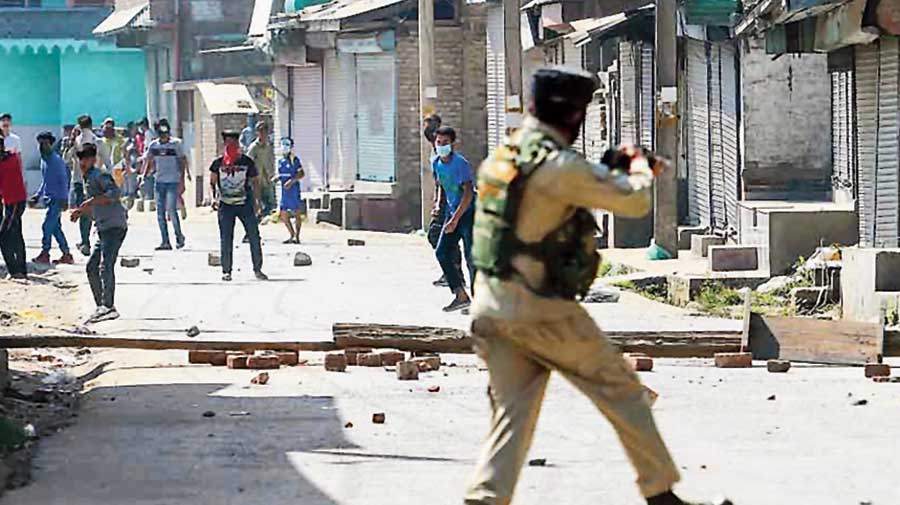 Kashmir: young man with sack of apples dies in alleged dismissal from CRPF
A 20-year-old died in suspected CRPF shootings in Shopian district on Sunday, a day after Union Home Secretary Amit Shah made overtures to Kashmiri youth asking them for their help to eliminate militancy.
Shahid Aijaz Rather, who the locals believed had dropped out of school to earn a living and support his family, was shot dead in Babapora outside the CRPF 178 Battalion camp.
Police and CRPF claimed Shahid died in a shootout between security forces and militants, but locals and politicians accused the forces of killing him in cold blood.
One photo shows Shahid lying on the ground, his head leaning against the steering wheel of what appears to be a security force vehicle, with a sack of apples lying in front of him. His two arms are inside the pheran, the long coat that Kashmiris wear in winter.
The murder comes as Shah makes a four-day visit to Jammu and Kashmir to examine the situation after an upsurge in militant violence. The Interior Minister was in Jammu on Sunday, laying the foundation stones for development projects. He is due to return to the Valley on Monday before leaving for Delhi on Tuesday.
Shah told the valley's youth on Saturday that they could do what his government couldn't: eradicate militancy in the region.
Shopian District Police tweeted on Sunday, "At around 10:30 am, unidentified terrorists attacked a 178 billion-strong Naka party, CRPF in Babapora, Shopian. The CRPF responded to the fire and in crossfire an unidentified person was killed. Further details are in the process of being determined.
Women from Shahid village in neighboring Anantnag district staged a protest, accusing the forces of murder and asking them to hand over the body to the family for the last rites.
"For God's sake, we urge the tyrants to return the child (his body). At least her mother will see her face, "a protester shouts in a video.
"It's a very poor family and his mother sent the child to earn a living. Let them (the forces) kill us all. We don't bring up our children for this.
Another woman said Shahid's father was bedridden after recent surgery. She said the young man was the sole breadwinner.
Some social media users have asked CRPF to release the CCTV footage to prove Shahid died in a shooting.
"Another innocent civilian was reportedly killed by the CRPF in Shopian today," tweeted former chief minister Mehbooba Mufti.
"It is sad that the armed forces show little restraint and operate with such impunity. My sincere condolences to his family. "
This is the second murder at the hands of the CRPF in Kashmir this month.
On October 7, the paramilitary force shot and killed the vehicle of a tribal man, Parvaiz Ahmad Bokad. The CRPF had claimed that Bokad had overrun a checkpoint, but local people accused the forces of deliberately targeting him.
October saw an upsurge in militant violence, with rebels killing 11 civilians, including seven non-Muslims, who were reportedly targeted to force religious minorities out of the valley.