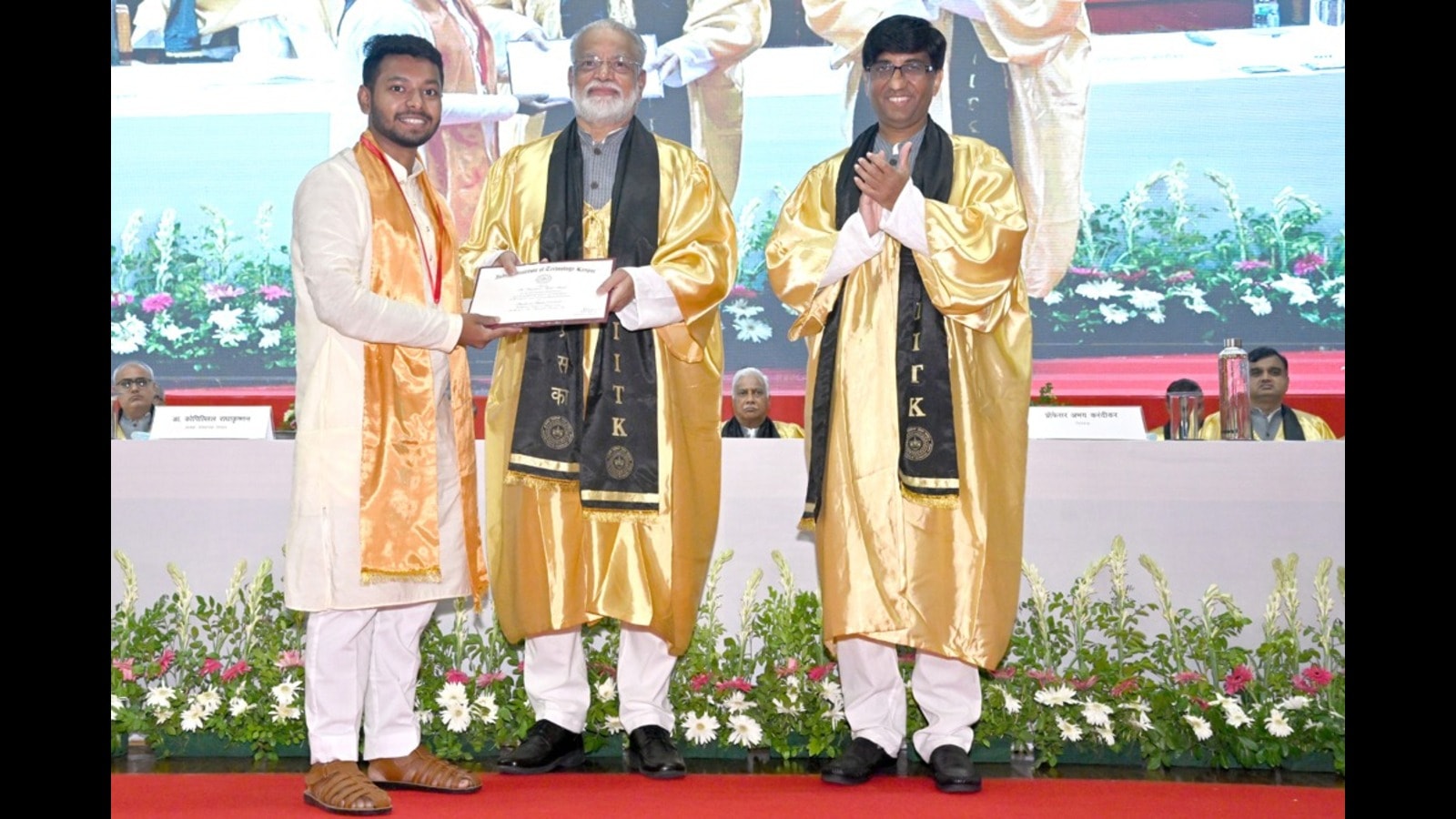 IIT Kanpur Convocation: 1360 Students Receive Digital Diplomas, 51 Bag Medals, Awards
The Indian Institute of Technology, Kanpur (IIT-K) held its 55th convocation on Wednesday in which, like last year, students were awarded blockchain-based digital degrees.
The 1360 graduate students on this occasion included PhDs (116), 10 MTech-PhD (co-degree), MTech (144), BTech (556), MBA (53), MDes (14), 25 MS (by research), PGPEX -VLFM (40), 144 in MSc (2-year course), double major (24), double degree (108), 21 in MS-PD (MS part of the double degree) and BS (105).
These blockchain-based digital degrees would be accessible to students through the Indisi Wallet app.
"Our team at IIT Kanpur has developed blockchain and self-sovereign identity (SSI), which allows students to manage and store their digital credentials as verifiable credentials in digital wallets installed on their devices. These credentials cannot be tampered with, are globally verifiable, sensitive to user content, and can be selectively disclosed. It also addresses global privacy and security issues and respects the underlying principles of the proposed Data Protection Bill," said Professor Manindra Agrawal, one of the coordinators of the National Blockchain Project.
Prof Agarwal said the SSI would help make the process transparent, secure and maintain privacy as well. Dr. Devi Prasad Shetty, Founder and Chairman of Narayana Health, was the chief guest on the occasion.
"IIT-K has spearheaded many vital medical innovations and initiatives over the years. I hope the students who graduated today will reflect the same ideals instilled at IIT-K and try to make this world a better place," Dr. Shetty said in his virtual address.
In addition to diplomas, 51 categories of prizes and medals were awarded to students. In addition, 21 students received the "outstanding doctoral thesis" award.
The President's Gold Medal went to Shashwat Gupta from the IT and Engineering Department, the Director's Gold Medal (4-year UG program) went to Priydarshi Singh from the Aerospace Engineering Department, the Director's Gold Award (5-year UG program) went to Prateek Yadav from the Department of Mechanical Engineering. The Ratan Swarup Memorial Prize was awarded to Atin Vikram Singh from the Department of Electrical Engineering. The Dr. Shankar Dayal Sharma Medal was awarded to Rupesh R Chafle from the Department of Materials Science and Engineering (MSE).
"Convocation is a time to celebrate learning and to commit to practicing values ​​and ethics, to moving forward in life. I wish everyone who received diplomas and awards the best and hope they will contribute to a better world," said Dr. Radhakrishnan K Koppillil, Chairman of the Board of Governors (BoG), IIT-K, who chaired the call.
Professor Abhay Karandikar, Director of IIT-K, said, "Convocation is one of those occasions that all students look forward to. It is a momentous annual occasion for the institute and we celebrate the learning of those who go out into the world to do the greatest good for the nation and society as a whole.
The dress code for this year's convocation was a traditional cream-colored kurta and white pajamas for male students, and a traditional cream-colored kurta and white churidar or leggings for female students.