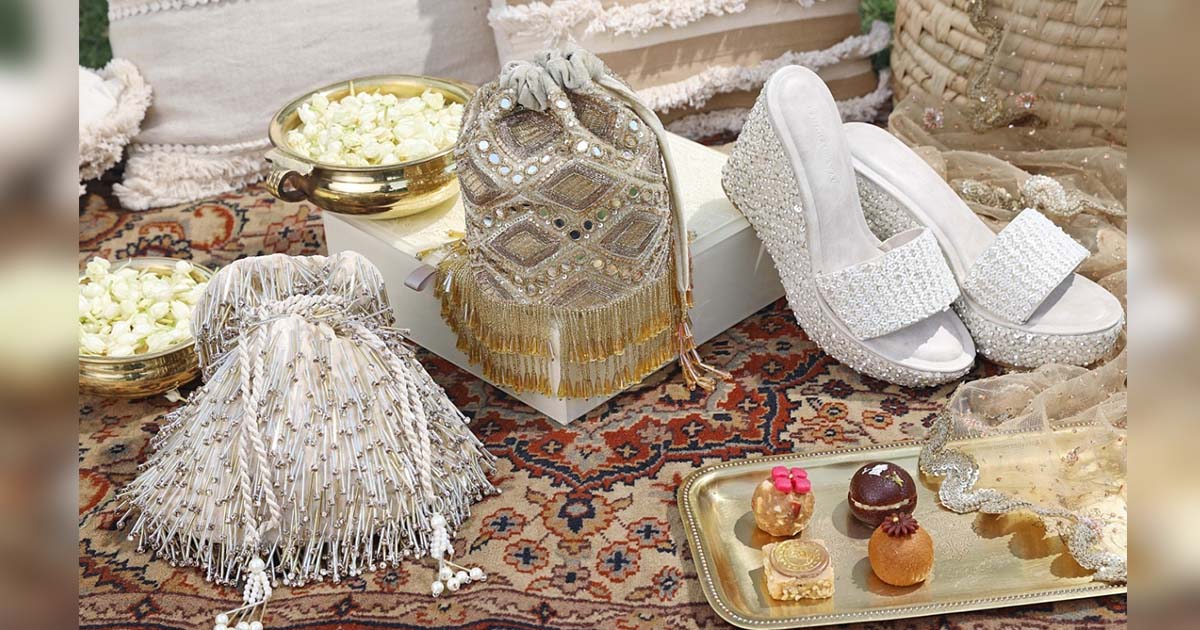 Give a girl the right shoes and the right bag, and she can take over the world!
Conquering hearts with its traditional and contemporary designs, Aanchal Sayal brand shoes and handbags are a heavenly marriage. A potpourri of colors, Aanchal Sayal's tailor-made pieces set the perfect tone for the festivities. From lush ivory tones, warm gold and blush pinks to deeper scarlet reds and sleek blacks, the accessory color palette is a celebration of traditional Indian undertones.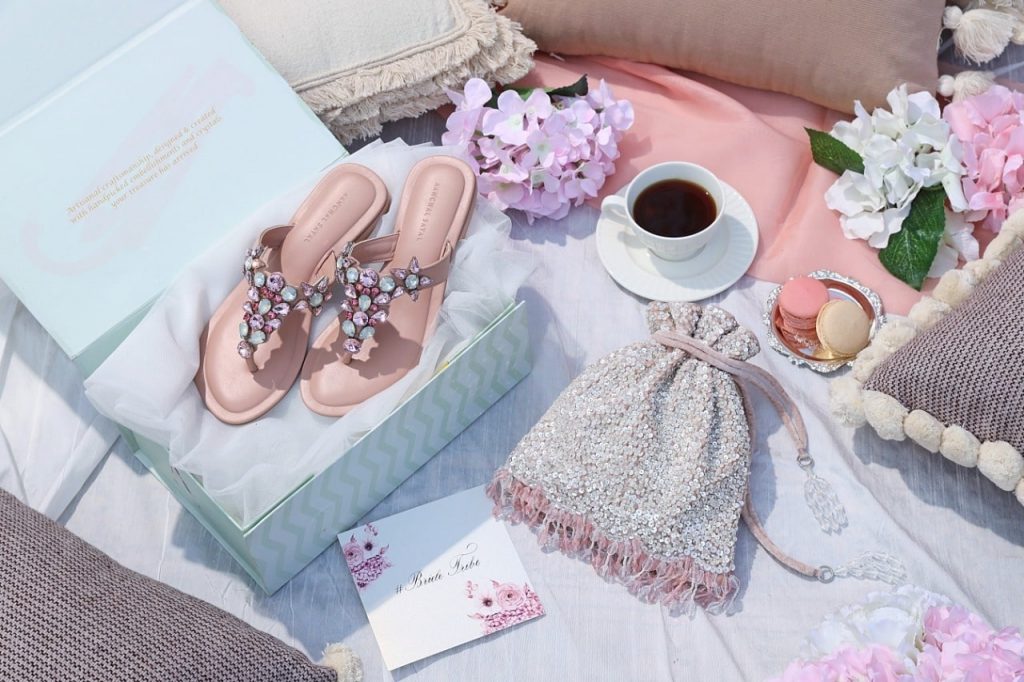 "We bring the best of both worlds: shoes and bags, which are bespoke pieces to try on this holiday season. Whether traditional or contemporary, we aim to provide accessories that celebrate every modern Indian woman.
Aanchal Sayal
Founder and Creative Manager
There is a sole and an arm for every woman on the Aanchal Sayal brand. So, this holiday season, find your unique partner and pair it with your favorite Aanchal Sayal accessory. Aanchal chooses the 5 best bespoke shoe and bag combinations to rock the holiday season.
Mini Bag Colette and Cales Valeria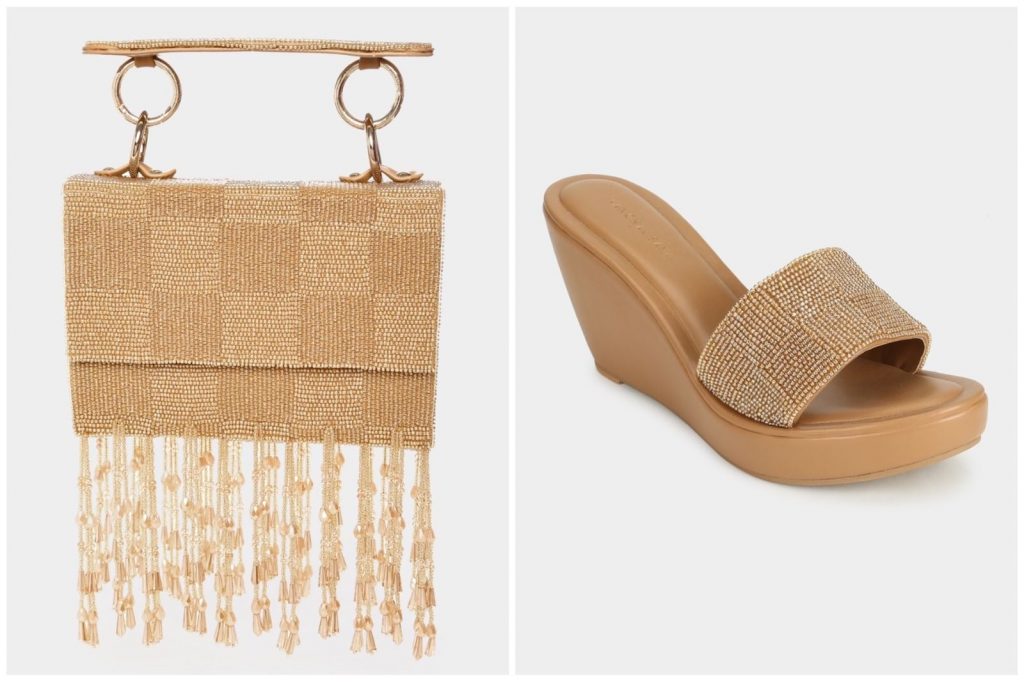 Crafted in faux leather, this beige Colette mini bag is adorned with unique designer embroidery. The bag is adorned with crystal tassels on the bottom and comes with an embellished short handle and also has a detachable shoulder chain. Pair it with Valeria faux leather wedge shoes. The stone and cutdana work in the sequins adds bling to the comfortable cushioned shoes. This combination will be a hit with ethnic clothes.
Opal Potli and Layla wedges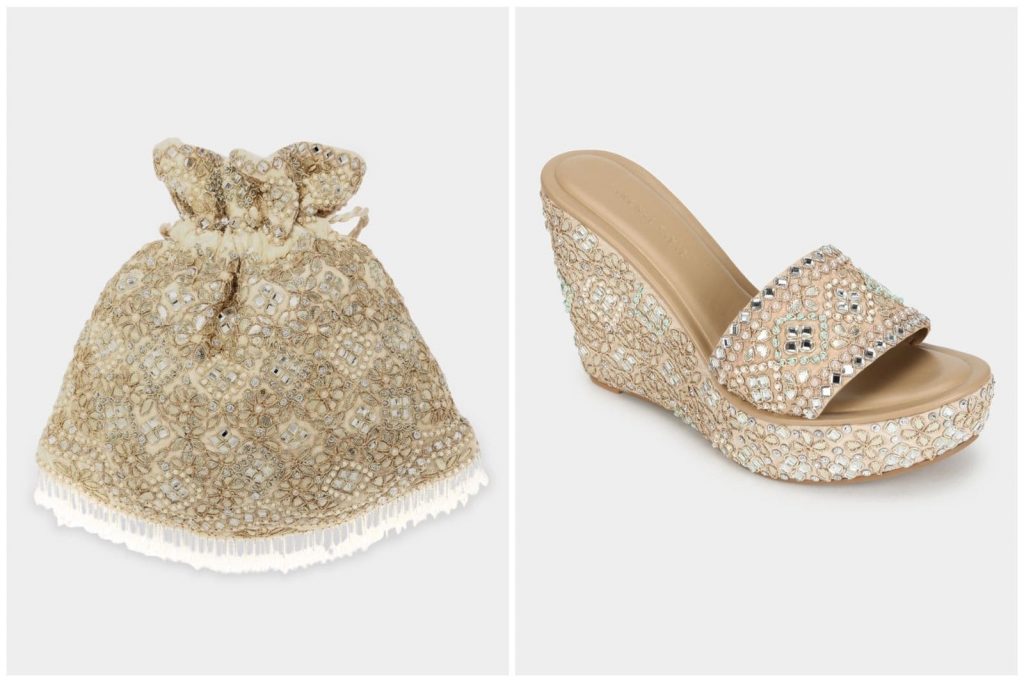 A classic, the Potli Opal bag is a charming addition for weddings, parties and other celebratory occasions. The potli is in plush velvet and consists of sequins on the body and crystal pompoms on the bottom. It comes with a dori and a removable chain. This beautiful pair of Layla wedges adds sparkle to the potli. Adorned with stones and sequined cutdana work, the shoes are faux leather and make a perfect jodi for a traditional function.
Mini Isra bag and Coraline heels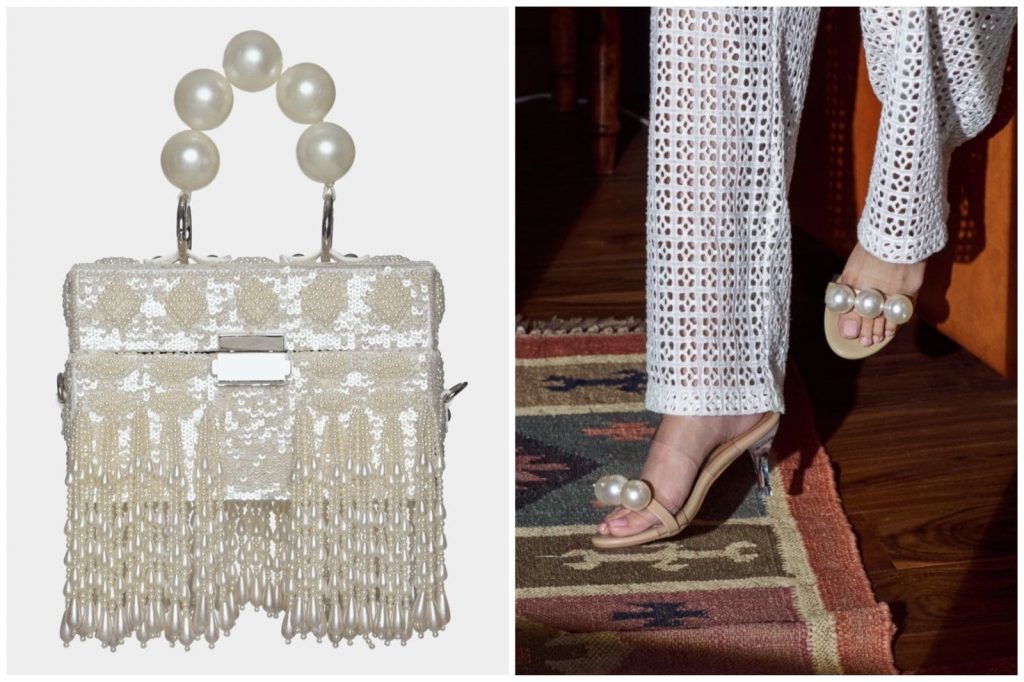 This box bag is heavily embellished with sequins and pearls on the flap and comes with pearl tassels on the bottom. The short handle of the Isra mini bag is adorned with pearl details. Elevate your evening look with the Isra mini bag paired with Coraline heels. Perfect for festive occasions, these heels are embellished with pearls on the front strap. The transparent heel and straps give it a chic and classy effect.
Crystal Potli bag in Ivory and Crystal sliders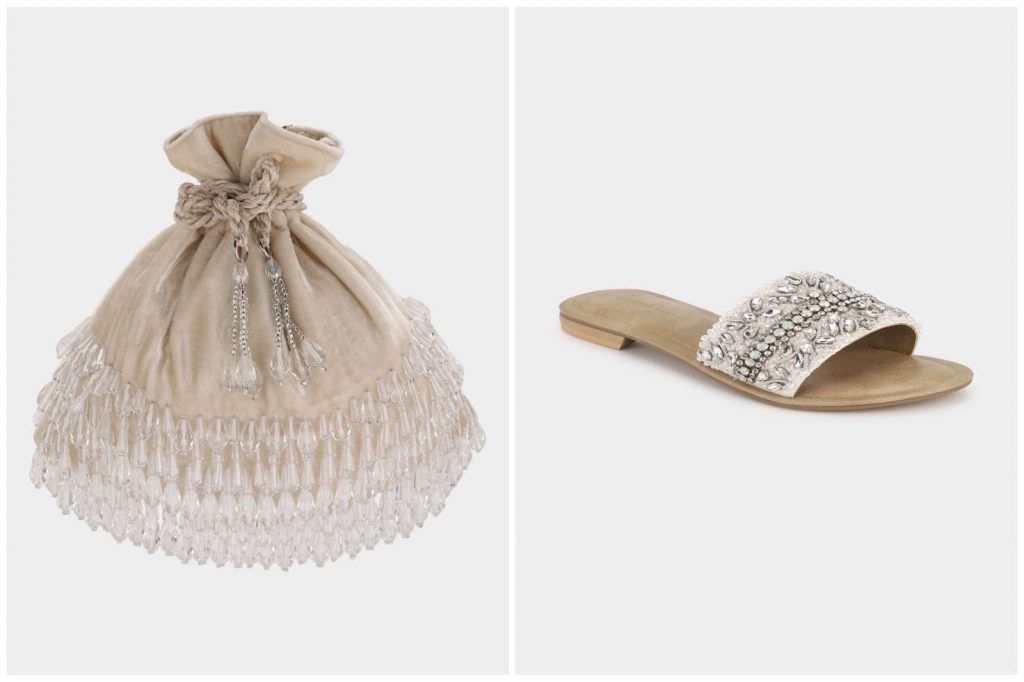 Handcrafted with precision, this jumpsuit is a pastel treat this holiday season. The Ivory Crystal potli bag is made of velvet and consists of shiny Japanese crystals, a detachable chain and hand beaded tassels. Complete the accessory with a pair of sleek crystal sliders adorned with sparkling stones on the front strap.
Cocktail crystal pouch in blush pink and water crystal sliders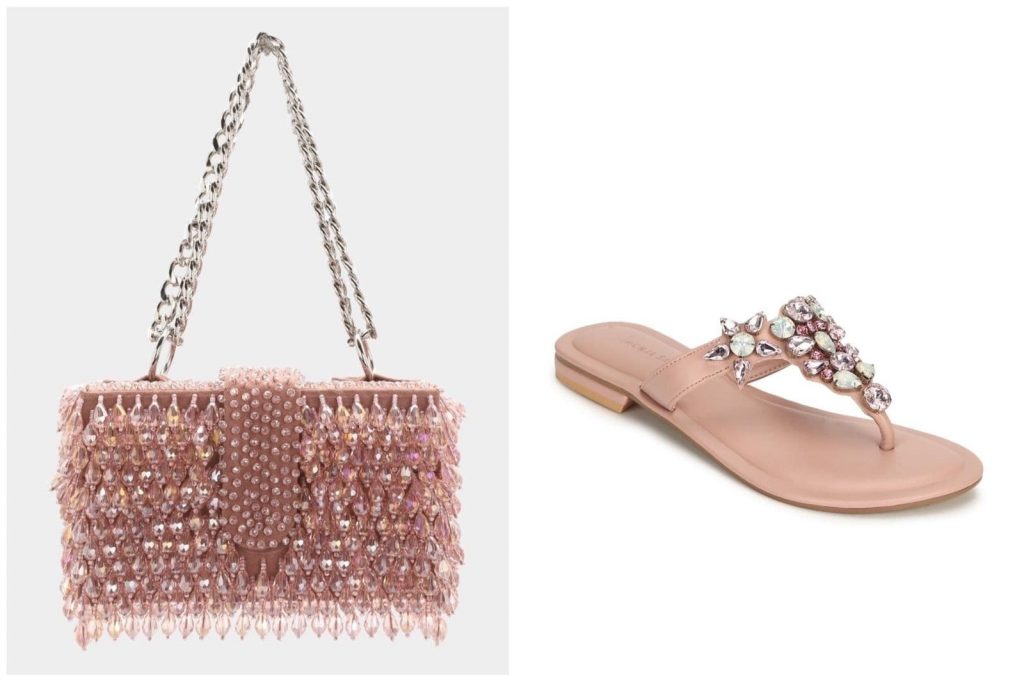 With soft blush hues, this pair has crystal embellishments on the body and is perfect for daytime function. Encrusted with crystals, the Elitaire box bag can easily go from a traditional addition to a contemporary accessory. Slip into a pair of faux leather Water Crystal slides and channel your inner diva with this jumpsuit.