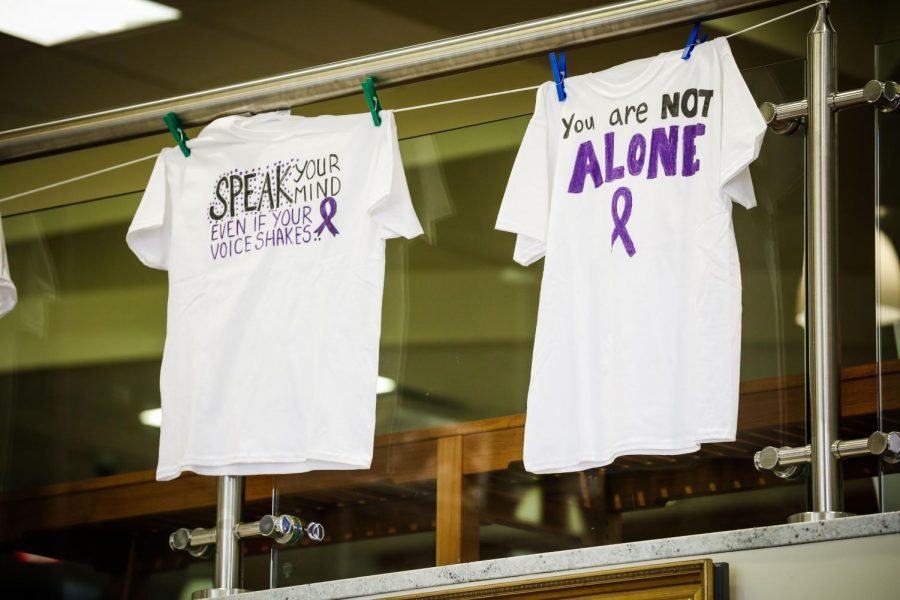 "Clothes Line Project" raises awareness of domestic violence
In honor of Domestic Violence Awareness Month, the End Violence Center enabled domestic violence survivors and advocates to anonymously raise their voices against this issue. On October 14, from 11 a.m. to 1 p.m., a table was set up and managed by junior Noah Kendall, who works at the Women's Center and the End Violence Center, which hosted the Clothesline Project. This is a project where students could decorate shirts in honor of domestic violence awareness that would later be displayed somewhere in Natali.
"It is also up to survivors of any kind of violence or abuse to speak up and show how strong they are, how changed they have been by it, and to speak to their perpetrator or the perpetrator. without actually talking to them, "Kendall said.
The table had 25 plain white shirts that the students could decorate with paint markers. This starting number would serve as a test to see how interested students are in this type of project and to see if more shirts need to be ordered due to the interest. At the end of the month, students have the option of picking up their shirts for safekeeping or giving them to the Anti-Violence Center to hang up in their desks, located in room 117 of the Natali Student Center. .
"It shows the beautiful side of people who are always beautiful regardless of any abuse or violence inflicted on them," Kendall said.
Also this month, the End Violence Center displayed posters with red flags on campus. The posters contain information about the red flags that people should watch for signs of domestic violence.
First-year graduate student Lauren Lavezoli expresses that events like the clothesline project, as well as the red flags around campus, are a good visual for a victim to see around campus.
"It's like you have a place to go," says Lavezoli. "There are people who are ready to help you and who are spreading it. "
Additionally, every Thursday of this month is Purple Thursday, where students are encouraged to wear purple clothing to support domestic violence awareness and post a photo online. When posting online, they are encouraged to express why they are supporting domestic violence awareness and tag the Cal U Women's Center. They will then be entered to win a gift card.
"[Domestic violence] can look like anything, "says Lavezoli. "It can be obvious that someone is being beaten by a family member or partner. Or even just the little things.
"[Domestic violence] is everything to break you, "says Mikaela Davis, a first year political science student.
Domestic violence is not always violence between intimate partners. Kendall expresses that domestic violence can come from anyone to anyone: friends, strangers and even family members.
"It can happen to any type of person, regardless of gender," Kendall says. "A person who inflicts violence and abuse inflicts violence and abuse. Just because it's a woman to a man, a non-binary person to another non-binary person, whoever they are, violence is violence.
There are various resources on domestic violence on Facebook and Instagram from the Cal U Women's Center. The Cal U Women's Center and the Anti-Violence Center are both located on the first floor of the Natali Student Center. Students can also contact a Victims Advocate by calling (724) -938-1594. The Counseling Center is another resource for current and past victims seeking help.
"[Domestic Violence Awareness Month] gives a voice to victims and people who may still be struggling and trapped in these relationships, whether they are a partner, parent or sibling, "said Lavezoli .